Automated experimentation in ecological networks
Automated Experimentation
2011
3:1
Received: 14 January 2011
Accepted: 9 May 2011
Published: 9 May 2011
Abstract
Background
In ecological networks, natural communities are studied from a complex systems perspective by representing interactions among species within them in the form of a graph, which is in turn analysed using mathematical tools. Topological features encountered in complex networks have been proved to provide the systems they represent with interesting attributes such as robustness and stability, which in ecological systems translates into the ability of communities to resist perturbations of different kinds. A focus of research in community ecology is on understanding the mechanisms by which these complex networks of interactions among species in a community arise. We employ an agent-based approach to model ecological processes operating at the species' interaction level for the study of the emergence of organisation in ecological networks.
Results
We have designed protocols of interaction among agents in a multi-agent system based on ecological processes occurring at the interaction level between species in plant-animal mutualistic communities. Interaction models for agents coordination thus engineered facilitate the emergence of network features such as those found in ecological networks of interacting species, in our artificial societies of agents.
Conclusions
Agent based models developed in this way facilitate the automation of the design an execution of simulation experiments that allow for the exploration of diverse behavioural mechanisms believed to be responsible for community organisation in ecological communities. This automated way of conducting experiments empowers the study of ecological networks by exploiting the expressive power of interaction models specification in agent systems.
Keywords
Natural CommunityEcological NetworkInteraction ProtocolEcological ConceptReal Community
Results and Discussion
Based on the ecological ideas presented so far and making use of LCC and the OpenKnowledge framework for the development and deployment of a multi-agent based simulation platform, we have designed and implemented ecological protocols of interaction for defining the relationships among agents in simulated ecosystems. These protocols are mainly focused on the ecological processes occurring at the interaction level between species in plant-animal mutualistic communities (see Methods).
We have found that interaction models for agents coordination thus engineered facilitate the emergence of network features such as those seen in ecological networks of interacting species in real communities, in our artificial societies of agents. In this section we present these results and we discuss how an ecological model of this kind can be used to study the ecological mechanisms behind the emergence of the network patterns we see in our agent societies and which are characteristic organisational features of the ecological communities they represent.
Our experiments consisted of the execution of a series of independent simulation runs following the model specifications outlined in the Methods section for parameter initialisation and runs configuration. During these runs, relationships among pairs of agents arose with different strengths (the number of times an agent interacts with any other relative to the number of times it has interacted during the entire simulation) and with different configurations.
We ran one hundred simulations where the configuration and properties of the networks of interactions between agents/species where similar among them. In order to be consistent throughout this paper we have selected fifteen samples from the simulated networks obtained, because, as we will see below, this was the number of natural communities that we were able to extract from a dataset of empirically obtained mutualistic networks that were more similar in number of species to our networks, and that we will employ for the analysis of similarities between the interactions networks obtained by the model and those observed in the real world. Changing the set of selected networks for analysis would not noticeably affect the results presented.
In this section we analyse the structure and features of this set of simulated networks. Apart from the identity of the agents, which is changed in every run based on the different configurations they can be initialised with (as explained in Methods), the architecture was, in general, similar among the obtained interactions networks; presenting constant patterns that are also found in ecological networks.
The mean and its standard deviation for the number of interactions occurring per node are plotted in Figure
5
as the distribution of the frequency of each number of interactions among the nodes in our networks. Although the standard deviation from the mean value is high for small degree values, we can see in this plot that the frequency of the number of interactions among nodes is highly biased towards small values and that few nodes among all the networks possess high degrees (i.e. are highly connected). It is a common pattern in our simulated networks then, that the majority of nodes possess low degrees, or interact with only one or a few other nodes in the network, and only a small fraction of agents are well connected to others in the simulated ecosystem.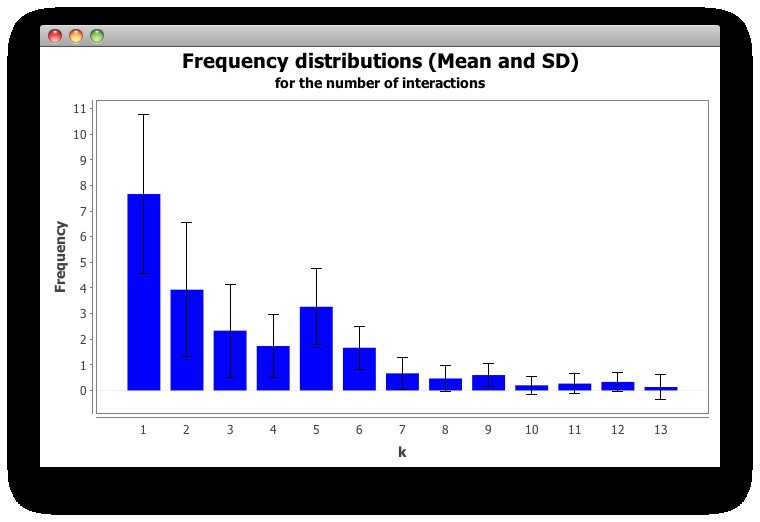 As we shall see, these are characteristic features that are believed to account for interesting properties of a particular kind of complex networks, which have come to be known as scale-free networks, and are important features observed in the mutualistic natural communities we are interested in analysing.
Figure
6
shows an example, taken from one of the runs in our experiments, where the relationships among agents in our system are represented in a fashion similar to networks of interacting species described in the field of ecology (as we saw the Background section).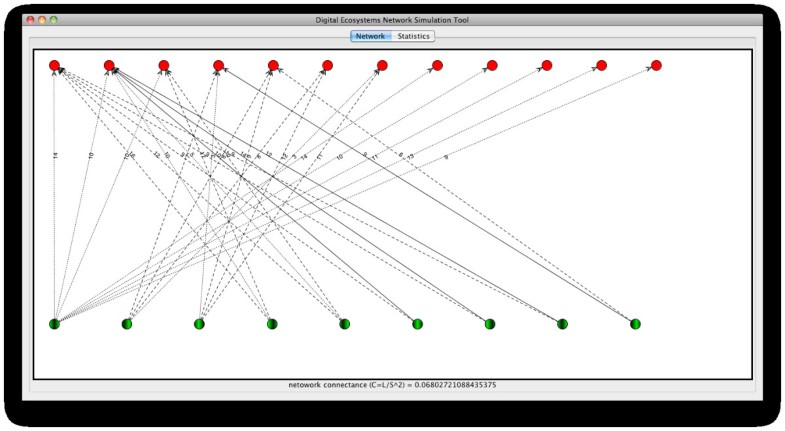 As explained in Methods, we have defined two roles for agents to take in our simulations, in resemblance to the actors taking part in plant-animal mutualistic interactions in nature: the "host" and the "visitor". In our network representations we have represented "host" and "visitor" agents/species as green and red nodes in the graph respectively. Relationships between agents are represented by arcs (directed edges), where the direction of an arc represents the direction of the energy flow in the ecological system while its thickness represents its relative strength with respect to the other connections that depart from the same host (green node). Numbers on edges represent the number of times that particular interaction was observed in the simulation (i.e. the number of times the pair of agents linked by that arc completed a successful interaction). A link (arc) is thus generated between two agents whenever an interaction is successfully completed amongst them.
By representing the relationships between the agents in our artificial ecosystems in this way we are able to extract features, obtain descriptors, and perform analyses over the resulting network based on methods borrowed from network theory.
As introduced above (Figure
5
), we obtained networks that display a scale-free structure. The plots displayed in Figure
7
show the data from the network in Figure
6
, where it can be observed that the majority of nodes in this network have small degree (≤ 2), while a low fraction of them are highly connected, showing a distribution of the frequency of interactions (left plot) biased towards low values (1 and 2 interactions), and a distribution of degrees (right plot) with a decreasing slope in a fitted power law. Additionally, small-world properties are found in our networks: with short paths between any two nodes. Properties of the kind mentioned above, which are encountered in the networks of interactions among our agents in the simulated communities, are common patterns also found in different kinds of complex networks in nature and the artificial world [
1
], and which differ significantly from the structure that we would expect from a randomly assembled network.

Another property seen in our networks, which is related to their scale-free character, is the preferential attachment displayed by visitor agents with low degrees (e.g. the five red nodes on the top right corner of Figure 6) to host agents that are highly connected. This is a common feature encountered in mutualistic networks, where specialist species are more likely to interact with generalists [16]. Patterns of this kind are important in practice because, as it has been argued, they can give us information about functional properties of the communities such as: disturbances propagation speed and robustness to species loss, which in turn provide us with a better understanding of the relationship between the complexity and stability of our ecological systems.
Asymmetric specialisation (i.e. a specialist interacting with a generalist) has been found to be a pervasive feature of plant-pollinator interactions networks, and it is believed to be beneficial for the majority of species in these communities because it facilitates the avoidance of extinction risks when species are highly reciprocally specialised [19]. This is another feature arising in the network of interactions among agents in the model presented.
The features encountered in the networks of relationships amongst our artificial agents are in many ways similar to those found in real mutualistic networks, as shown above; which are patterns that differentiate random networks from self-organised complex networks of relationships. This network architecture is an emergent property of our agent based system since the only mechanisms involved in agents' interactions are those specified by the protocol of interaction presented in the Methods section. The creation of such a complex and intricate pattern of relationships is not a hardwired property of the artificial communities arising from the simulations performed, but rather the product of many different agents interacting together for achieving their respective goals (gather resources and survive).
This conclusion is important because it means that the ecological and behavioural mechanisms that we are studying and that are translated into interaction models between agents in our computer model are directly and solely responsible for the system level attributes found in the artificial communities thus enabled, becoming in this way plausible causes for the emergence of these features in the studied systems.
Comparing with Empirical Data
In order to test the extent to which the networks of interactions found in our artificial systems are similar to mutualistic networks of interactions found in the real world (apart from the qualitative similarities introduced above), we have compared the architecture of the networks obtained from our simulations to some networks empirically collected from real communities and that have been compiled, analysed, and provided as supplementary material by Rezende et al in [31]. Although in that paper they used the networks for different kinds of analyses, the datasets provided are useful for getting an idea of the common features encountered in mutualistic networks.
Because some of the properties of interest for analysing ecological networks are scale dependent, we have selected fifteen networks from this dataset, based on the number of species composing it and that were closer to the number of agents in our simulations, for comparison against fifteen of our simulated networks. Connectance (C = L/S2), the fraction of all possible links that are realised in a network, is an important property that is commonly employed in the analysis of ecological networks and which provides information about the degree of connectivity between their nodes. We use this network measure and the Nestedness metric based on Overlap and Decreasing Fill (NODF), introduced by Almeida-Neto et al in [32], which provides a measure for community organisation in plant-animal mutualistic networks of interactions based on the overlapping diets of the species in the community studied; for comparing our simulated networks with fifteen empirically obtained plant-animal mutualistic networks. Additionally we perform qualitative comparisons between the structures obtained in one of our networks and one of the natural communities considered for this analysis.
As we can see, in both types of networks there is a positive relationship between the connectance of the network and the nestedness value. This is not surprising, since the more connections a network has the more they can contribute to the nested diets observed in those networks. It is perfectly possible however, that more links could mean less nested communities; it is important to bear in mind then that in well organised communities, like the ones we consider in this work, the more connected networks are, the more nested they become.
We also can see from this plot (Figure 8) that the data points corresponding to the naturally occurring communities are more distributed through the graph, while the points representing our simulated networks are more concentrated around connectances between 0.05 and 0.09, and nestedness indexes of 25 and 70. Apart from telling us about the variability encountered in real communities in this respect, this reinforces the fact that our simulated communities, although differing in some aspects from run to run, share a similar structure and enjoy features seen in natural communities.
These data (table 1 and Figure 8) also show us that the values of connectance and nestedness obtained from our simulated communities agree with the values of these measures commonly found in natural communities, where the connectance is normally between 0.03 and 0.1, and the nestedness values are usually found between 20 and 80. In our communities, the connectance values were greater than 0.05 and lower than 0.1; similarly, the NODF values for our communities were distributed along the 25-80 range of values. Apart from showing a connectance-nestedness relation comparable to that found in natural communities, these values are also in line with what is expected to find in these, which provides more evidence for the self-organised character of the communities modelled.
We want to further explore the similarities between our agent-based model communities and natural ones; for this we have selected, from the set presented above, one of our simulated and one of the empirically observed systems to perform a one to one comparison.
Two networks were thus selected based on their similitudes not only in connectance and nestedness values but also taking into account other features, as we shall see in the following paragraphs. The networks selected were: the one represented by the number 3 in table 1, with values 0.064 and 32.456 of connectance and NODF index for nestedness respectively, for representing our simulated communities; and the OFLO natural community, with 0.062 connectance and 35.961 NODF index, as a representative of the natural communities considered.
When closely inspecting these two networks we can easily realise a number of broad similarities such as the high proportion of visitor nodes (nodes in red) possessing only one interaction and also an important fraction of host nodes (nodes in green) with two interactions or less. It also attracts our attention the presence of one highly connected host node in both of the networks (green node in the bottom left corner in each of the networks), and also on the side of the visitor species/agents (red node on the top left). These nodes act as generalists/hubs, bringing cohesion and reachability to the whole network.
Another important feature captured by looking at the network of interactions and that is shared by our natural and artificial communities is the low fraction of strong dependences among nodes (solid dark edges in the graph) and the abundance of weak dependences, which in natural communities is believed to account for the stability and resilience of these systems, since the loss of a link can be easily adjusted for by recurring to other connections in the network.
Apart from the graphical representation of the interactions network, our simulation tool allows us to analyse certain properties derived from its structure and that can be employed to deepen our comparison among the selected networks.
In spite of these differences, the communities present very similar distributions of the frequencies of the number of interactions (top left plots), with practically all the nodes possessing less than five interactions and the majority of them with two or one. Additionally, only three nodes in the case of community number 3 and two in the case of the OFLO community possess more than five interactions: reaffirming in this way the scale-free character displayed not only by the natural communities employed here as references, which is expected from this type of networks, but also by our simulated communities as an emergent feature of self-organisation in our agent-based simulations.
In the bottom right plots of Figures 11 and 12 we can observe the distribution of the dependence values (how dependent is a species on the others) for the simulated and the natural communities respectively. Again, there can be seen the similarities between these two instances of artificial and natural communities, with the majority of the dependence values located between 0.0 and 0.4 (agents/species not very dependent on other agents/species) and few values above this range. It is important to realise however that the probability of a dependence value of 1.0 (the highest value), which implies that there may exist a node which is entirely dependent on another, is high for the dependence of visitor on host agents, in comparison with the other values of dependence; and this happens in both the natural and the artificial community. This might be due to the fact that a considerable number of visitor species on the network are involved in only one interaction and this could potentially mean that, in the event of losing the resource they exploit and if they are not able to adapt to exploit a different one, they could fail to survive, becoming in this way part of the cascading effects of an extinction.
The similarities found between natural communities and our simulated ones, not only in terms of the network structure, but also in terms of their features and characteristics, let us see how the mechanisms implemented at the individual interaction level between artificial agents has allowed us to obtain system level properties that are commonly encountered in natural communities. This model can thus help us study and analyse the possible mechanisms by which these properties, and the features of stability and robustness they provide to natural ecosystems emerge; not only by employing the example interaction protocol we have used for demonstrating the viability of this approach, but also by incorporating to the model many other mechanisms and processes that could in theory provide these systems with the characteristics they display and that are awaiting to be experimentally tested.
Conclusions
In this paper we have presented an automated method for experimentation in ecological theory. The experiments that can be performed using this approach are based on an agent-based model that is able to obtain the network of interactions among simulated species in an artificial community that interact based on a protocol of interaction which relies heavily upon ecological theory for the representation of the relationships among species as they occur in real communities. The ultimate goal of this model is the analyses of the possible mechanisms and processes by which the characteristics and patterns observed in the network of interactions among species in natural communities, and that are believed to account for certain features such as stability and robustness in these ecological systems, arise.
The emergence of topological patterns in ecological networks has puzzled researchers in theoretical ecology, and many processes have been proposed as explanations for this emergence. In this work we take as an example the mutualistic relationship between plants and their animal pollinators to design an interaction protocol based on mechanisms believed to be involved in this kind of interactions to demonstrate that, to some extent, interesting community patterns, similar in many ways to the kinds found in this type of natural communities, are found only by enforcing interaction models thus engineered between agents in the agent-based model.
An automated framework of this kind, that allows ecologists to experiment with different mechanisms in order to find the ones that are most likely involved in the development of the intricate networks of relationships we find in nature, can enhance the experimental capabilities of researchers in this field, contributing in this way to the advancement of the understanding of the mechanisms behind community organisation in natural systems, and ultimately ecological theory.
In spite of the advantages mentioned above, the model presented here is limited by the fact that we are only considering mutualistic interactions. Our framework will thus benefit from a broader view on the community by including other kind of ecological relationships such as predator-prey and parasitic interactions. Although the current state of model may be useful for the study of mutualistic interactions, and any researcher might be able extend this only by specifying new interaction protocols, an interesting venue to continue its development is to perform a study similar to that presented here on the mechanisms behind mutualistic interactions but on other types of relationships, which will allow us to define new kinds of interactions and analyse the outcomes of the extended model.
Although the model works well from a behavioural point of view, it is not able to relate interactions to a phylogenetic background of species, which has been recently studied as a factor that could contribute to the appearance and maintenance of interactions between certain species [31]. Including a genetic and evolutionary component to this framework might be of interest not only for this purpose but also to study the role of evolution and coevolution in community organisation.
Another interesting venue for further development is the adaptation of this generic model to an specific mutualistic system: by changing some sections of the interaction protocol or the way agents behave we can match more closely our model to the studied system in order to study their particularities.
Methods
We specify an ecologically inspired interaction model (IM) between agents in a agent-based model for the study of ecological interactions among species in natural communities. The simulated ecosystem enabled in this way is implemented using the OpenKnowledge system and therefore, LCC for the specification of the IM (as introduced in the Background section). In this section we describe the design and implementation of this digital environment, with particular emphasis on the ecological concepts and mechanisms used as the source of inspiration for defining the ecological protocol.
Declarations
Acknowledgements
This work was funded by the European Commission through the Seventh Framework programme Marie Curie Actions. Grant agreement no.: 230618.
Authors' Affiliations
(1)
School of Informatics, University of Edinburgh, Edinburgh, UK
Copyright
© Lurgi and Robertson; licensee BioMed Central Ltd. 2011
This article is published under license to BioMed Central Ltd. This is an Open Access article distributed under the terms of the Creative Commons Attribution License (http://creativecommons.org/licenses/by/2.0), which permits unrestricted use, distribution, and reproduction in any medium, provided the original work is properly cited.